By Chris Stonor
 South Korea's Work Safety Watchdog is soon to trial drones to inspect the safeness of work environments at construction sites, reports ajudaily.com. The drones are to monitor sites to see if workers use proper safety gear and safety equipment such as fall-proof nets and to see if guard rails are properly installed to help reduce accidents.
The Korea Occupational Safety and Health Agency (KOSHA) said in a statement this week that "it would demonstrate a special drone control tower vehicle equipped with closed-circuit television (CCTV) to monitor 12 construction sites in real-time." Drones will look for safety hazards at hard-to-reach places such as high-rise building summits and factory chimneys. The statement goes on, "If hazards are found, the watchdog will ask site operators to fix the problems immediately."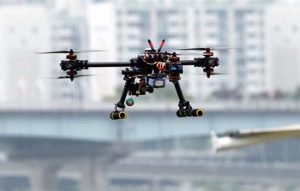 Drone inspectors will use aerial information to create digital maps that can be used for safety management, KOSHA continued,  "We will expand the area of on-site monitoring and prevent lethal accidents by managing data that is collected throughout construction processes."
According to KOSHA's data, in 2020, South Korean workplaces reported 2,062 deaths where 882 lost their lives because of safety accidents. Two people died every three days from falling. The main reason for these lethal accidents was the lack of safety equipment such as safety guard-rails, fall-proof nets and other devices such as lifeline harnesses.
(News Source: http://www.ajudaily.com)