By Chris Stonor
White papers, research, analysis, investigations, scrutiny, probes, inquisition documents, you can call them what you like, but such a concentrated and growing number of such 'papers' from an increasing variety of analyst, research and other groups, proves one thing. The drone and eVTOL industry is expanding at a rapid rate.
The latest "White Paper" (perhaps, the best and most erudite sounding title) comes via "senior experts from across Egis."  Egis is an airport infrastructure operator with a network of 17 mid-sized airports across the world.
The website release states, "In a major new white paper on the infrastructure implications of Urban Air Mobility (UAM), senior experts from across Egis have collaborated on a vision for UAM that takes on board the perspective of passengers and citizens, and the demands UAM will place on urban infrastructure."
It goes on to say, "The concept of UAM offers the promise of fast, low (or zero) emission journeys and reduced congestion. Implemented successfully, it will offer an innovative mobility service that complements ground transport and connects distant suburbs in a demand-responsive way. But there is much work to be done to address the challenges, win public acceptance and prepare for this kind of future."
The release concludes, "SKYCITIES, SKYWAYS, SKYTAXIS: DREAM OR DESTINY? explores two quite different environments: first a modern city, like Shenzhen in China, where growth is rapid and new infrastructure is emerging out of nothing; and secondly an old city like Paris, where UAM would be another dimension to an already mature and complex urban fabric."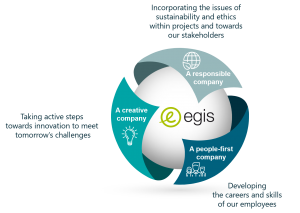 The White Paper's key content is:
The state of UAM today: what is driving it, where the money is and what still needs to be addressed.
A vision for UAM as an integrated form of transport of the future from the perspective of hypothetical characters living in two different UAM-enables cities in 2035.
The infrastructure needed – and how it could be delivered.
Followed by the question: "Who should read this paper?"
City transport authorities
Mayors / Governors of cities/regions and/or their strategic advisors
State level transport authorities
Regulators
Airports and aviation stakeholders
Governments
Innovators (tech/industry/data)
Academia
The research document is FREE and well worth a perusal.
Read the White Paper
 https://www.egis-aviation.com/wp-content/uploads/2021/04/Egis-UAM-Skycities-skyways-skytaxis.pdf
 For more information