By Chris Stonor
India is gearing up for drone deliveries of food, medicines and general products, reports timesofindia.com.
 Restaurant, health and grocery delivery companies including Swiggy, Dunzo and ShopX will soon be able to deploy drones to deliver such items during the Covid-19 pandemic that is presently ravaging the country. Trials have already started.
The government is allowing 20 groups including Swiggy, Dunzo and SpiceJet, to carry out trials Beyond Visual Line of Sight (BVLOS). BVLOS is the second stage of testing drones and unmanned aerial vehicles (UAVs) in India. Last week, the Ministry of Aviation (MoCA) allowed the Telangana Government to deploy such craft for the delivery of Covid-19 vaccines.
A MoCA spokesperson said, "The preliminary permission grant is envisioned to assist the supplementary framework development of subsequent UAV rules pertaining to BVLOS drone operations. These trials will help create a framework for future drone deliveries and other major applications using these craft."
Once these trials have proven successful, drones can then be deployed for delivering Covid vaccines, medicines and food.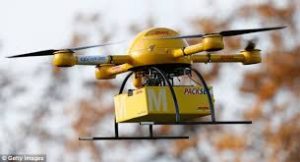 A Senior Executive at a food delivery company, said, "This will help cut down on delivery times quite drastically. For instance, if the route is long, drones may be used to transport the medicines or food to a central location from where they can be then collected." The Executive continued, "For last mile delivery via drones is difficult in India because property rooftops do not have clear landing zones and are often obstructed by power lines."
Arjun Aggarwal, MD of Arc Ventures, one of India's leading drone investors' added, "The drone ecosystem has quickly established itself as a fundamental component of the fourth industrial revolution. They have been already successfully adopted in a spectrum of sectors such as health, logistics, defence, entertainment, film production and heavy industry."
List of Selected Consortia for Experimental BVLOS Drone Operations
: Aerospace Industry Development Association of Tamil Nadu (AIDAT)
: ANRA Consortium A (by ANRA Technologies)
: ANRA Consortium B (by ANRA Technologies)
: Asteria Aerospace Pvt Ltd (backed by Reliance Industries)
: AutoMicroUAS Aerotech Pvt Ltd
: Centillion Networks Pvt Ltd
: ClearSky Flight Consortium
: Dhaksha Unmanned Systems Pvt Ltd
: Dunzo Air Consortium
: Marut Drontech Pvt Ltd
: Sagar Defence Engineering Pvt Ltd
: Saubika Consortium
: Skylark Drones & Swiggy (Consortium of Skylark Drones and Swiggy)
: ShopX Omnipresent Consortium (consortium of aerospace company Omnipresent and ShopX)
: Spicejet Ltd
: Terradrone Consortium B
: The Consortium
: Throttle Aerospace Systems
: Value Thought IT Solutions
: Virginia Tech India (VT India)
(News Source: https://timesofindia.indiatimes.com)