By Chris Stonor
UAMN has covered a number of EHang stories in recent few weeks culminating with this major interview of the company's founder and CEO, Huazhi Hu.
The interview was published today on the Lei di.net touch net, a news website founded by Lei Jianping. It is touted as AN EXCLUSIVE. The feature has been translated from Chinese to English, where some edits and tweaks have occurred to help the flow of the piece. Not easy given the wide gulf of language and word meaning.
___________________________________________________________________________________
EHang, an eVTOL autonomous company, recently announced a strategic move to focus on product development for manned and logistics short, medium and long flights and speed up the trials related to "UAM transportation operations".
EHang is currently implementing the "Hundred Routes Plan", which means that one hundred UAM routes will be opened within one year. This will lead "to the production of 250 EHang 216 aircraft within the year", EHang CEO, Huazhi Hu, says in an exclusive interview with Lei Di.com founder, Lei Jianping. The company "will be committed to becoming the world's leading provider of intelligent air transportation services."
Hu then explains, "I believe that in the future, people will use EHang's air taxi services as easily as using taxis/Uber; people will also experience the convenience of our logistics and efficiency. In the future, EHang's positioning will be Uber in the air, and our mission is to let everyone enjoy the convenience and fun of short-distance air traffic."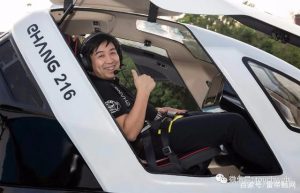 Huazhi "I was Born for the Sky" Hu
Background
EHang began producing "self-driving aircraft" in 2017 with a full backup system, where the internal certifications have met safety requirements. Starting from the end of that year, the company's craft began to be produced. During this process, EHang has carried out certification together with the Global Civil Aviation Organisation, and now the entire company's internal and external product safety is established.
Hu points out that while the EH216 is going through a Type Certification (TC) review, it is only a matter of time before this is approved. It is conservatively estimated that the review should be completed within one year.
Meanwhile, EHang was listed on America's NASDAQ in December 2019. It was the world's "first publicly-listed intelligent autonomous aircraft company." It has created the EH216 passenger air taxi with "the most passengers and the best safety record in the world."
So far, The EHang 216 has completed more than 10,000 safety test flights, including manned ones, covering eight countries and 40 cities in Asia, Europe and North America, and completed safety trials in a variety of extreme weather conditions. The robustness of EHang's integrated technologies includes automatic driving, full redundancy backup and cluster management. These technologies have laid the foundation for EHang to obtain a series of test flight licenses issued by China, the United States, Canada, Austria, Norway and South Korea during 2020.
Last December EHang submitted the EH216 type certificate application to the Civil Aviation Administration of China (CAAC). At the beginning of 2021, the Body formally accepted this application.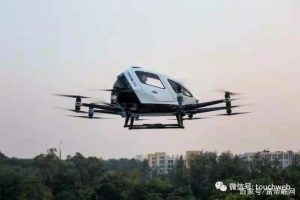 In April 2021, the CAAC established a review working group for the TC project of the EH216 Aircraft and officially launched this review. This is the first manned UAV system TC project of the CAAC.
Hu says, "Before EH216 completes it, EHang needs to further build the entire system and conduct more trials. With more test run experience, the craft's flight can also become even safer."
EHang is also launching the VT30 long-range passenger and logistics aircraft within the near future. As the R&D of the VT nears completion, the company is implementing the "Hundred Air Traffic Plan". That is, one hundred UAM routes will be opened within one year.
Hu reveals EHang is setting-up between 30 and 40 routes in China, "to normalise eVTOL flights" before opening up new ones. The EH216 will be used for short to medium distances, while the new, VT30, is to be deployed for longer distance journeys.
Therefore, the EH216 and VT30 are to be the two main products of EHang in the future, primarily to meet the needs of commuters travelling to work in cities. For example, from a high-speed rail station, you can fly directly to the city centre via such an Ehang craft, eliminating the problem of traffic congestion.
Yin Shijun, Chief Engineer of China's CAAC, says:
When investigating EHang, Yin Shijun, Chief Engineer of the Civil Aviation Administration of China (CAAC), thoroughly explored the company's R&D, command and dispatch centres as well as its test base, production and research workshops.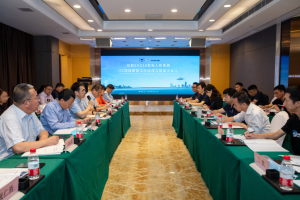 CAAC Establishes EHang eVTOL Certification Team
Shijun points out, "Unmanned aviation is an organic part of intelligent civil aviation construction. It will become the main form of transportation in the future. We must work together to promote the development of such aircraft and promote the high-quality development of this construction. Both applicants and the bureau must have innovative thinking and verification methods, while establishing international standards."
"Hundred Lines Plan"
According to  EHang, the company's "Hundred Lines Plan" will be launched within 24 months, and the initial focus is to be on the Guangdong-Hong Kong-Macao Greater Bay Area in China. In order to support this important strategic plan and meet customer orders in 2021, EHang aims to produce 250 216s by the end of this year.
This emergence "of self-driving air taxis" will change all aspects of people's daily life in cities, including reducing pollution, improving emergency services, reducing commuting time, while helping companies and individuals improve efficiency and save costs.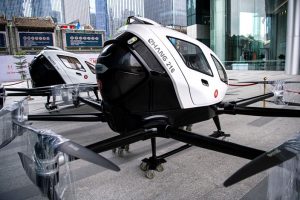 For this kind of novelty, outsiders generally worry most about security issues. As EHang turns its positioning into "a Uber in the air", the inevitable question is how to further ensure the safety of autonomous vehicles?
In this regard, Hu says the EH216 has conducted more than 10,000 safety test flights without a single accident. All of this is based on a set of successful safety systems.
Specifically, all EHang routes are developed from near to far, flying short-distance routes first. For example, by flying from one point to another in a large city, where the straight-line distance is only 5 kilometres. With an EHang 216, all the places customers want to go can be reached within 10 minutes. By road this distance could be far far greater.
Hu points out this difference. "The journey of an eVTOL is very different from car travel. Urban roads are usually not in a straight line, whereas the aircraft flies in such a straight line. For short-distance traffic, each city trip by car could take a minimum of 20 minutes, perhaps, even half an hour to an hour," he says. "Therefore, except for large cities like Beijing, the driving time may be very long, and an EHang 216 may take only 10 minutes over a similar distance."
Of course, the flight of an eVTOL is different from the flight of an airplane. For example, if the EHang 216 is flying over a city, a height of 40 to 50 metres is generally sufficient. When encountering a relatively high building, it will either fly around or fly over it. In most cities, there are not many buildings above 100 metres, and even fewer above 200 metres. Therefore, EHang 216 generally needs a flying height of at most 200 metres. While, the VT30 requires a height of 300 metres only.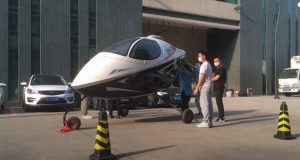 Front Part/Cabin of the New EHang VT30
Hu says that all EHang's craft can be guaranteed to fly within plus or minus 1 metre. There is also a command and dispatch centre for scheduling to ensure that they do not collide with each other or collide with other buildings or aircraft. So, every flight is safe.
Hu, himself, was the first passenger of the EHang unmanned aerial vehicle and is now a frequent flyer. When talking about the experience of flying for the first time, he enthuses, "I was born for the sky, and like to play in the sky every day. Maybe everyone has some concerns about flying for the first time, but many curious people come to experience it. Afterwards you discover the flight is very smooth and safe."
Xu Xiaoping, a major investor in EHang
Xu Xiaoping, the founder of the Zhen Fund, is an investor in EHang and first experienced the 216 some time back. At first, Xu Xiaoping had concerns in his heart. EHang told him that he must experience a flight, he would not fly far, nor would he fly out, just like taking an elevator, sitting up and flying to a height of more than ten or twenty metres and then landing again.
After this experience Xu Xiaoping became very excited and said, "Oh, this plane is so stable. I want to fly out for a lap. I must fly out." There were many people who participated in the experience that day. After he completed his second trip, he watched other people have a similar excitement. Xu Xiaoping now believes, the market "will explode in two years."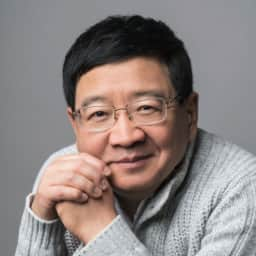 'Bob' Xu Xiaoping
In addition to EHang, many domestic players are also eyeing the industry. For example, in February 2021, the electric aircraft company Archer Aviation and the special purpose acquisition company (SPAC) Atlas Crest Investment Corp. reached a merger agreement to be listed on the curve, with a valuation of USUSD3.8 billion. In the same period, Joby Aero, a developer of electric passenger aircraft, recently announced a merger agreement with Reinvent Sponsor LLC, a blank check acquisition company. The new company is valued at USD6.6 billion.
Compared with Archer Aviation and Joby Aero, the biggest advantage of EHang is that the company already has ready-made products and created a business model. Recently, the market value of EHang was USD1.527 billion, but back in February the share price was shorted by overseas sellers.
Regarding this phenomenon, Hu believes that EHang is significantly underestimated, and that the outside world lacks awareness of the company's potential. "A lot of people bought our stock and our share price rose very high before then shorting it. This will have a certain impact on our capital market. Everyone does not know whether this short-selling report is true or false. We later responded to these falsehoods vigorously."
He continues, "The short selling has affected the enthusiasm of investors. This industry is still in a relatively early stage, and it will take some time to develop. We are also affected by the overall environment of China and the United States influence."
Revenue Scale
EHang's revenue scale is still at a relatively low level stage. The recent financial report shows the total revenue of the company in 2020 is YUAN180 million, a year-on-year increase of 47.8 percent from the YUAN121.8 million in 2019. Meanwhile, the revenue of the air mobility market was YUAN106 million, an increase of 23.3 percent from the YUAN85.9 million in 2019. Aerial Media's light show revenue (an EHang off-shoot business called Dronepixel in partnership with Concept Solutions) was YUAN65.7 million (approximately USD10.1 million), a year-on-year increase of 113.5 percent from YUAN30.7 million in 2019. EHang's net loss under non-US GAAP adjustments in 2020 is YUAN37.2 million.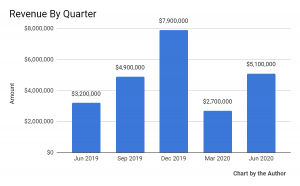 Recent Quarterly Revenue Stream
The transformation of EHang will also change the company's revenue model, that is, the company has moved solely from the original aircraft sales to an operating fee rental model too. This means the revenue scale of EHang may narrow in the short term, and the operation level could face pressure, but the company's presence will also become greater.
Hu points out the company is in good health and its losses are normal because EHang has invested heavily in R&D. In the case of ensuring operational safety, the company's revenue scale can be infinitely enlarged. Like Uber and Didi, they have spent a lot of money during the early stages to cultivate consumer habits.
"Faced with a Blue Ocean"
He says, "For us, there are not many competitors in the entire market. We are faced with a blue ocean. We must do a good job in this blank blue ocean, with good rules and safety, where the company's revenue scale will be very large. "
When talking about when the entire market "may explode", Hu comments that all kinds of people around the world have joined the industry, so the market will not allow the industry to run slowly. Now it has reached the stage of production, commercialisation will quickly grow. "I think in two years with the mass production of aircraft, the entire industry will break out," he says.
Meanwhile, Hu has set a very challenging goal for EHang's internal team in 2021: strive to achieve the delivery of 400 craft, which means a year-on-year increase of 400 percent from 2020.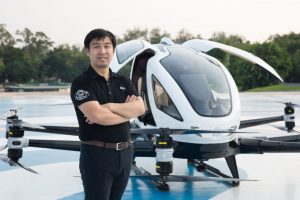 At present, top investment institutions have started to "strategically move" into the eVTOL industry. In January, European asset management company, Carmignac, invested USD40 million in EHang through a private placement of newly issued Class A common shares.
 Visual presentation
 https://www.youtube.com/watch?v=pgw8K-NJ024
 For more information
 https://www.ehang.com/ehangaav
END