By Chris Stonor
EHang has become a grand master at gaining publicity, exhorted by a growing army of social media fans some of whom hold shares in the company.
The latest bulletin tweeted out yesterday read, "We are pleased to announce that EHang's long range AAV VT30 has successfully completed the first phase of vertical take-off and landing trial flight. We'll carry out the second phase of endurance flight test as planned."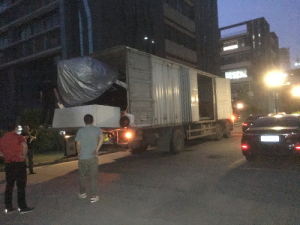 The VT30 Front Cabin Section is Unloaded
The rumour mill has been abuzz for months concerning the latest EHang's AAV development, after the flames were fuelled by an alleged company depiction of the new craft that surfaced on Twitter late last year.
On March 9th, EHang then acknowledged the rumours by tweeting out, "EHang has been developing long-range electric vertical take-off and landing (eVTOL) vehicle for years. We are about to run the test flight of this new product in months, which will have many new breakthrough features. We will release more information in time."
This was then affirmed on April 14th with another tweet, "We're pleased to announce that EHang will perform trial flights of a new passenger-grade eVTOL with a flight range of more than 300km [186 miles] on May 25th. A big step closer of becoming a UAM solution provider. Stay tuned!"
Two days later a photo surfaced on Chinese media of the alleged front section/cabin of the VT30 initially wrapped within a transport carrier (see pics above).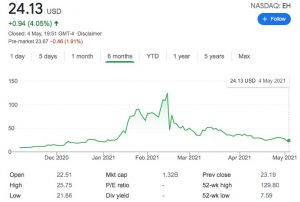 Meanwhile, EHang's share price continues to fall, albeit more slowly, after the "damning report" by U.S analyst/research company, Wolfpack. Last night's close was USD24.13 a share, a far cry from its highs of USD124.09 on February 12th.This new AAV VT30 could be "a game-changer" for EHang and its many loyal shareholders who've been through a grim time in recent months. UAMN will be following the craft's progress with a keen eye.
For more information