By Chris Stonor
Ehang remains busy forming new partnerships to develop UAM around Europe, reports a company press release.
The latest is with Spain's Aeroports de Catalunya group, a public company of the Generalitat de Catalunya,in the north-eastern region of Catalonia. As EHang's airport partner in Europe, both parties "will collaborate on passenger transportation, aerial logistics, take-off and landing infrastructure, airspace management and regulatory certification, etc."
Both parties aim to develop a trial area and show room at the Lleida-Alguaire Airport, conducting test studies related to autonomous flight technologies and airspace management and transforming Lleida-Alguaire Airport into an innovative platform for urban air mobility (UAM) in Europe.
Damià Calvet, the Minister of Territory and Mobility, commented, "The partnership with EHang will bring a lot of value to the airport and Catalunya. The two parties will further explore and advance the development of urban air mobility, and continue to move forward on the path of innovative and sustainable development with global partners to create a better life for Catalunya."

Victoria Xiang, CEO of EHang Spain and Latin America, added, "The Lleida-Alguaire Airport is a good platform for innovation under the management of Generalitat de Catalunya. The partnership allows EHang to develop, test and demonstrate its autonomous aerial vehicles and supporting infrastructure in an airport environment, which will greatly promote UAM and create a more integrated and sustainable air space."
EHang has participated in several projects promoted by SESAR JU. Through the partnership with Aeroports de Catalunya, EHang will explore the application of AAV under the airport environment and further advocate safe, autonomous and eco-friendly air mobility solutions in Europe, promoting the innovative development of UAM with global partners.
This announcement arrives just days after Zaragoza has become the third Spanish city to partner with eVTOL aircraft developer EHang on plans to establish what the Chinese company says "will be an aerial transportation hub".
Read recent UAMN article on this subject:
https://www.urbanairmobilitynews.com/air-taxis/ehang-partners-with-zaragoza-in-spain-to-construct-aerial-transportation-hub-and-further-develop-uam-pilot-city-initiative/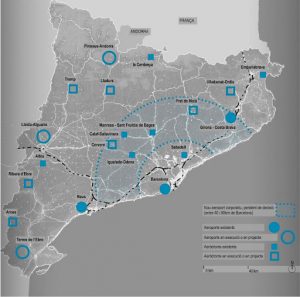 On April 27th, EHang demonstrated the EH216 at the Fourth Digital China Summit in Fuzhou, China, from April 25th to 29th. A week earlier, the aircraft made another high-profile public appearance at the opening ceremony for China's professional soccer league, delivering the Vulcan Cup trophy to the Guangzhou Tianhe Stadium.
Read UAMN articles on these news stories:
https://www.urbanairmobilitynews.com/air-taxis/ehang-216-aav-makes-stunning-appearance-at-chinese-super-league-opening-ceremony/
https://www.urbanairmobilitynews.com/air-taxis/watch-latest-ehang-video-two-passengers-take-off-in-216-aav-taxi-above-fuzhou-city/
Although, these "strategic partnerships" may not all be plain flying. According to EHang, the Norwegian Civil Aviation Authority in 2020, granted an operational flight permit for the company to conduct EH216 trial flights with its undisclosed local customer to support efforts to certify the aircraft. The company has not provided any update on how this project is progressing, while most of the work for the type certification appears to be concentrated in China.
Meanwhile, since 2019 EHang has been working with its Austrian partner FACC to establish the city of Linz as another test area for urban air mobility operations. The following year, Austrian civil aviation authorities granted a permit to allow autonomous flight trials. To receive this permit, EHang and FACC first had to complete a specific operational risk assessment that involved a flight from the town of St. Martin in Innkreis during severely cold weather and high winds.
For more information
https://www.ehang.com/ehangaav